Sorrow Blog

*Deutsche Version*
In this blog you can follow Robbert&Frank Frank&Robbert as they travel around the globe 🌍 to spread their message 'GO AWAY SORROW OF THE WORLD'.
Just like monks that repetitively chant the same phrase over and over again, R&F F&R are repeating ⏳ the action of presenting the exact same message of peace in different places, languages and contexts. Whenever someone reads the message, or even thinks the message, a vibration 💫 is send into the universe.
In an absurdist but sincere attempt to create change through art, F&R R&F deploy various strategies to present the message in public space. ⛳
The ultimate goal being that all these little vibrations will start to resonate and create a powerful call to action 📢. A positive call to make a difference, in whatever futile way you can think of. In the end it is not so important
what
you do exactly, but
how
you do it 🦄.
Feel free to share this message, carry it with you and make it your own!
PS: Below you will find some inspiration on how to share the message or make it your own 👇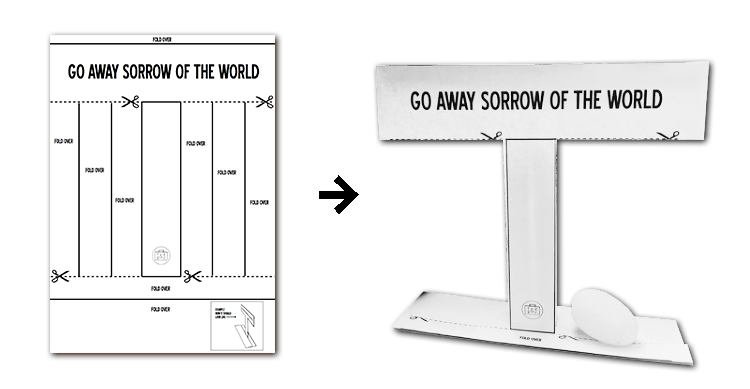 📄 Go Away Sorrow Of The World – Folding Page.
With this paper template you can make your own mini message at home or at the office.
⬇️ Download the template here: https://adobe.ly/31BYa2m
🖨️ Print on A4 or A3 paper, use heavy paper if possible
✂️ Cut and tape according to instructions
👀 Put on display
🌱 Share with friends, family and strangers
--> use the hashtag #goawaysorrowoftheworld
PS: Check out the hashtag #goawaysorrowoftheworld on
Instagram
&
Facebook
to see what other people have been doing with the message!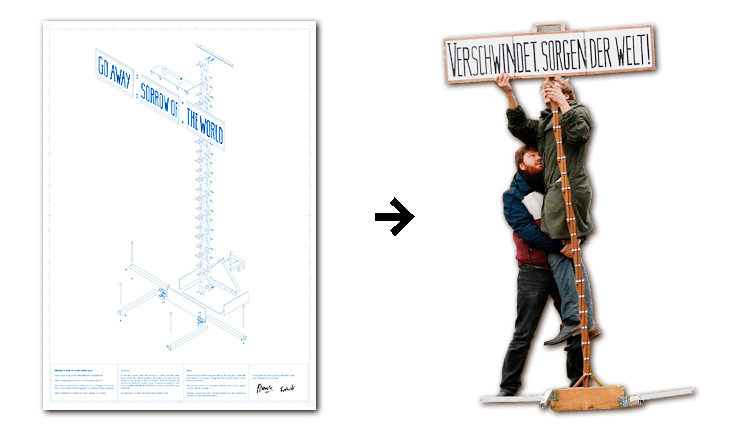 🔹 Go Away Sorrow Of The World – Blueprint.
With this detailed blueprint you can construct the very same wooden suitcase that Frank&Robbert Robbert&Frank have used to spread the message. Granted, you will need some woodworking skills, but it is possible. #DIY #woodworking
⬇️ Download the blueprint here: https://adobe.ly/3pTQJLb
👌 If you plan on making it, please do share it with us!
Go Away Sorrow Of The World – The Movie 🎥
With a little wooden suitcase as their only weapon Frank&Robbert Robbert&Frank try to make the world a better place. Each time they present their suitcase the message is translated in the local language.
On every spot F&R R&F film the installation / inauguration of the suitcase and print a postcard of the action (with a little portable printer). The marked and stamped postcards are the certificate and proof of the action. Scroll down this page to see the postcard collection.
Latest montage of actions in Hong Kong, Guangzhou (China), Skaland (Norway), Keulen (Germany), Belfast (UK), Bern (CH), Brussels (Belgium), London (UK) and many more...
This project is supported by:
Campo Arts Center
. Special thanks to:
Auawirleben
Bern,
WING
Hong Kong,
MTM Gifts
Hong Kong / Belgium,
Krakeslott
Norway.