Sorrow Blog

*English version*
In diesem Blog können sie Robbert&Frank Frank&Robbert folgen, wie sie um die Welt 🌍 reisen, um ihre Botschaft 'VERSCHWINDET, SORGEN DER WELT' / 'GO AWAY SORROW OF THE WORLD' zu verbreiten.
Im Dezember 2020 ❄️🎄🎁 fährt die Botschaft auf einer Werbefläche an einem Tram durch Bern (CH).
Das Theaterfestival auawirleben
hat die bildenden Künstler eingeladen, das Projekt anzupassen und diese kommerzielle Fläche mit Kunst zu besetzen.
Genauso wie Mönche dieselbe Phrase wieder und wieder singen, wiederholen ⏳ R&F F&R den Akt, die exakt selbe Friedensbotschaft an verschiedenen Orten, in verschiedenen Sprachen und Kontexten zu präsentieren. Jedes Mal, wenn jemand die Botschaft liest, oder auch nur denkt, wird eine Vibration 💫 ins Universum geschickt.
Mit diesem ebenso absurden wie ernsthaften Versuch, mittels Kunst eine Veränderung hervorzurufen, setzen F&R R&F unterschiedliche Strategien ein, um die Botschaft im öffentlichen Raum zu präsentieren. ⛳
Das eigentliche Ziel ist dabei, dass all diese kleinen Vibrationen anfangen zu resonieren und zu einer kraftvollen Handlungsaufforderung werden 📢. Die positive Aufforderung, etwas zu verändern, auf die noch so kleinste Art und Weise. Am Ende des Tages ist es nicht so wichtig,
was
man tut, sondern
wie
man es tut 🦄.
Teile diese Botschaft, trage sie mit dir und mache sie zu deiner Eigenen!
PS: Unten findest du ein paar Inspirationen, wie du die Botschaft teilen oder sie zu deiner Eigenen machen kannst. 👇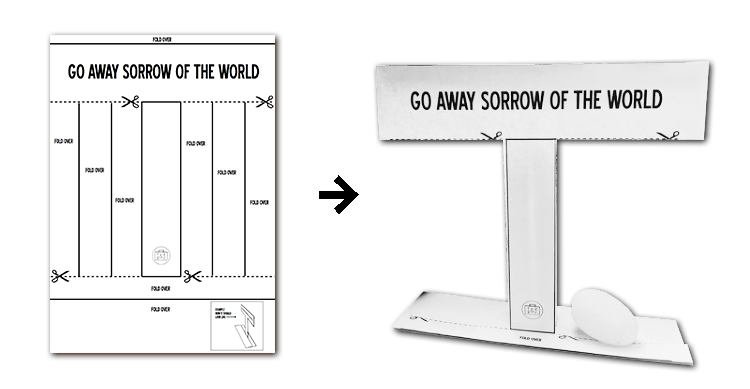 📄 Go Away Sorrow Of The World – Folding Page.
With this paper template you can make your own mini message at home or at the office.
⬇️ Download the template here: https://adobe.ly/3fwKlV7
🖨️ Print on A4 or A3 paper, use the heaviest paper you have
✂️ Cut and tape according to instructions
👀 Put on display
🌱 Share with friends, family and strangers
--> use the hashtag #goawaysorrowoftheworld
PS: Check out the hashtag #goawaysorrowoftheworld on
Instagram
&
Facebook
to see what other people have been doing with the message!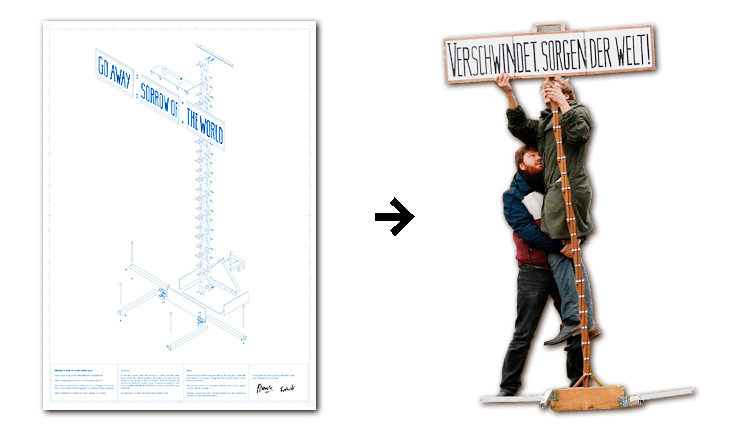 🔹 Go Away Sorrow Of The World – Blueprint.
With this detailed blueprint you can construct the very same wooden suitcase that Frank&Robbert Robbert&Frank have used to spread the message. Granted, you will need some woodworking skills, but it is possible. #DIY #woodworking
⬇️ Download the blueprint here: https://adobe.ly/3pTQJLb
👌 If you plan on making it, please do share it with us!
Go Away Sorrow Of The World – The Movie 🎥
With a little wooden suitcase as their only weapon Frank&Robbert Robbert&Frank try to make the world a better place. Each time they present their suitcase the message is translated in the local language.
On every spot F&R R&F film the installation / inauguration of the suitcase and print a postcard of the action (with a little portable printer). The marked and stamped postcards are the certificate and proof of the action. Scroll down this page to see the postcard collection.
Latest montage of actions in Hong Kong, Guangzhou (China), Skaland (Norway), Keulen (Germany), Belfast (UK), Bern (CH), Brussels (Belgium), London (UK) and many more...
This project is supported by:
Campo Arts Center
. Special thanks to:
Auawirleben
Bern,
WING
Hong Kong,
MTM Gifts
Hong Kong / Belgium,
Krakeslott
Norway.